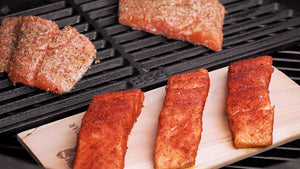 2 Ways to Cook Salmon on the Big Green Egg
---
Fish is one of the healthiest and most delicious foods you can possibly prepare.
Whether you grill it or smoke it, a tasty fish filet is great for your heart, your bones, your brain, and your waistline.
Now, fish is notoriously intimidating to master, but with a little help, you can master the perfect fish dish on your Big Green Egg.
Catch of the Day
WHICH FISH DO YOU FANCY?
These fish have firm flesh that won't fall apart on the grill and they're available in steaks or thick fillets perfect for the EGG's high heat.
SALMON
Salmon has a fresh ocean flavor that pairs well with both salty and sweet seasonings, making it a popular option for direct grilling or smoking on a wood plank.
TUNA
Tuna provides a mild fish flavor while having a beef-like texture when cooked on the grill. They are often cooked medium rare as steaks with simple salt and pepper seasoning.
TILAPIA
Tilapia is an inexpensive, mild-flavored, freshwater fish packed with protein and the perfect blank slate for a wide variety of seasonings. Our favorite combo to pair with Tilapia is lemon and pepper.
HALIBUT
Halibut is a medium-firm white fish so you don't have to worry about it falling apart on the grill mid-cook. Even better, its tender texture and delicate fish flavor pair well with bold seasonings and marinades.
---