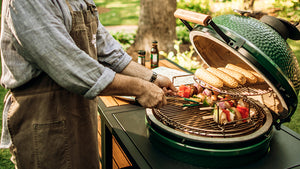 8 Safety tips for Cooking on the Big Green Egg
---
First Thing's First
The Big Green Egg is a grill like no other, but before you go perfecting that prime rib, make sure you know all the Do's and Don'ts to keep yourself safe and keep your new grill cooking for the long haul.
---
Tip #1
Caution... HOT!
This one might be a no-brainer, but never attempt to pull, roll, or move a hot EGG. Never place an EGG on a slope or uneven surface or in an area where it can be tipped over.
Tip #2
Pull, Don't Push...
When moving an EGG in a Nest, place both hands on the Nest or Handler and pull the cool egg behind you. Don't push it ahead of you. If you need help, grab a second person!
Tip #3
Cook With The Cap
Don't cook with the rEGGulator Vent Cap completely removed. The top and bottom vents control the airflow, and your EGG will accelerate to very hot temperatures quickly without it.
Tip #4
No Lighter Fluids
Never use briquettes, lighter fluid, or any other flammable liquids in your EGG. Our All-Natural Lump Charcoal lights quickly and easily with Charcoal Starters and/or EGGnitors.
Tip #5
Do Not Place Directly On Wood
DO NOT place an EGG directly on a wood surface or near any combustible surface! Use the Table Nest to provide airflow under the EGG.
Tip #6
Never Use Water
Never use water to extinguish charcoal in the EGG. Always close both vents at the end of your cook to cut off the air supply and prevent the EGG from reaching extreme temperatures.
Tip #7
Always Burp the EGG
Slowly open the dome about an inch before opening all the way — this allows air to enter slowly and helps avoid a flashback. Use extra caution when opening a hot EGG with closed vents.
Tip #8
Keep Your Area Tidy
Be aware of combustible materials in proximity to your EGG, as they can present a fire hazard if any sparks or embers are allowed to come into contact.
Want More Tips & Tricks?
We have the largest playlist of Big Green Egg tutorials and recipes on the internet. On our YouTube channel, you'll find everything you need for the Ultimate Cooking Experience!.
---