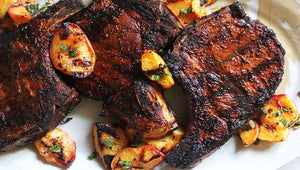 ANCHO CHILI PORK CHOPS with CARAMELIZED PEACHES
---
Recipe adapted from Salsa-ology.com
Ingredients
1 lb of Pork Chops
1 Tbsp Dry Rub
2 Tbsp butter
2 shallots, thinly sliced
3 cloves of garlic, minced
2 Peaches pitted and thinly sliced
2 tsp thyme leaves
½ tsp Kosher salt
¼ tsp black pepper, ground
½ cup bourbon
Dry Rub Ingredients
2 tsp Kosher salt
1 tsp Ancho chili powder
½ tsp black pepper, ground
¾ tsp coriander seeds, ground
¼ tsp cinnamon, ground
¼ tsp nutmeg, ground
Instructions
Set your EGG for direct cooking without the convEGGtor; bring the EGG to 550°F.
Mix the dry rub ingredients together in a mixing bowl. Coat both sides of the pork chops with the dry rub. Sear all four sides of the pork chops over direct flames for 30 seconds per side.
Remove chops from the grill and set aside.
Place a cast iron skillet on the grill grate.
Let the skillet preheat for 5-10 minutes, or until it has heated enough to sauté.
Melt the butter in the cast iron pan and sauté the shallots and the garlic until soft.
Add the peaches, thyme leaves, salt, and pepper.
Sauté until the peaches start to brown and soften.
Remove pan from the grill and deglaze with the bourbon.
Place the pork chops on the bed of peaches and close the grill lid.
Cook the chops until they reach an internal temperature of 140°F.
Remove the cast iron skillet from the grill and let the pork chops rest for 10 minutes.
Slice the pork chops and serve with the bourbon caramelized peaches.
---