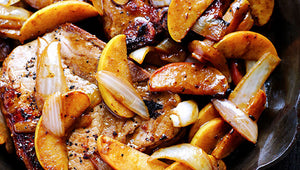 APPLE CINNAMON PORK CHOPS
---
Thick, juicy pork chops are topped with a creamy, sweet, cinnamon-y apple and onion topping. It's comfort food at its best!
INGREDIENTS
4 bone-in ribeye (rib) pork chops, about ¾ inch thick
Salt and pepper
3 tablespoons butter, divided
2 apples, peeled, cored and thinly sliced
1 large white onion, halved and thinly sliced
2 tablespoons brown sugar, packed
2 teaspoons cinnamon
Pinch cayenne
⅔ cup apple cider
⅓ cup heavy cream
EGG SETUP
Light your charcoal and set the EGG for indirect cooking with the convEGGtor (legs up) at 400°F.
METHOD
Generously season the chops with salt and pepper on both sides. Set aside.
In the Half Moon Cast Iron Griddle melt 2 tablespoons of butter.
Immediately add the pork chops and cook until brown, about 3 minutes per side. Transfer to a plate and set aside.
In the Half Moon Cast Iron Griddle, still at 400°F, melt 1 tablespoon of butter.
Immediately add the apples and onion and let them cook, until the onion is translucent, about 5 minutes.
Stir in the brown sugar, cinnamon and cayenne.
Next, stir in the apple cider and cream.
Then add the pork chops, nestling them into the liquid, and cook until the internal temperature of the pork reaches between 145°F. for medium rare and 160°F for medium. It should take about 3-4 minutes per side.
Serve the chops with the apple mixture spooned on top.
Serves 4
---