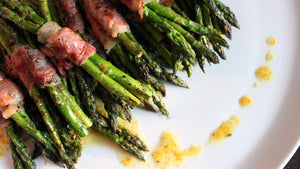 ASPARAGUS & PANCETTA ON A HIMALAYAN SALT BLOCK
---
Ingredients
2 tablespoons bitter orange marmalade 

2 tablespoons mustard oil (available in Indian groceries) 

Juice of ½ orange (2 to 3 tablespoons) 

1 tablespoon chopped kalamata olives 

1 tablespoon brown mustard seeds 

1 tablespoon finely chopped fresh chives 

1 pound green asparagus spears 

12 pieces thinly sliced pancetta (3 ounces) 

2 tablespoons olive oil 

Freshly ground black pepper

Instructions
Place the salt block over low heat on a grill or stovetop for 10 minutes. Turn the heat to medium and heat for 10 more minutes. Goal temperature is 350°F.

While the salt block is heating, mix the marmalade, mustard oil, orange juice, olives, mustard seeds, and chives in a small bowl suitable for dipping; set aside.

Cut or snap the tough ends off the asparagus and wrap the asparagus in a piece of pancetta.

If using thin asparagus, wrap in bundles of three; if using medium-thick, wrap in pairs; and if using thick mommas, wrap individually.

Brush the wrapped asparagus with the olive oil and season with pepper.

Put the asparagus bundles on the hot salt block, close the lid, and grill until the pancetta has rendered about one-quarter of its fat and is beginning to crisp on the bottom, about 4 minutes.

The asparagus will turn brighter green.

Turn the bundles over, close the lid, and grill until the pancetta is cooked on the other side, about 3 more minutes. Serve with the dipping sauce.

---