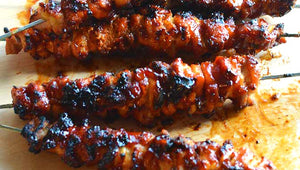 BACON BOURBON BBQ CHICKEN KEBABS
---
Recipe adapted from HOST THE TOAST.
INGREDIENTS
16 oz barbecue sauce
¼ cup bourbon
2 lbs boneless skinless chicken thighs, cut into 1" pieces
2 teaspoons kosher salt
1 teaspoon ground white pepper
1/2 teaspoon garlic powder
1/2 teaspoon onion powder
2 tablespoons paprika
3 tablespoons packed dark brown sugar
1 tablespoon smoked paprika
6 slices raw bacon, cut into small pieces
METHOD
Set the EGG for direct cooking (without the convEGGtor) at 400°F.
In a small bowl, combine the BBQ sauce and bourbon. Mix well.
In a food processor, combine the kosher salt, white pepper, onion powder, paprika, garlic powder, dark brown sugar, smoked paprika, and bacon. Pulse until completely smooth.
Put the chicken thigh pieces in a bowl and then rub with the bacon paste. Once well-coated, thread the chicken thigh pieces onto skewers (pre-soaked, if they're wooden).
Place the kebabs on the preheated grill. Cook for about 5 minutes per side, or until nearly cooked through.
Brush the kebabs with the bourbon barbecue sauce and cook for an additional minute on each side.
Serve with the remaining BBQ sauce.
---