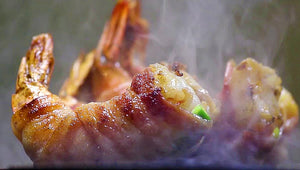 BACON WRAPPED JALAPENO & CHEESE JUMBO SHRIMP
---
Recipe adapted from SeriousEats.com
Ingredients
2 pounds large shrimp, peeled, deveined, and rinsed

2 teaspoons garlic powder

2 teaspoons paprika

2 teaspoons freshly ground black pepper

1/2 teaspoon cayenne pepper

2 oz Monterey Jack cheese, cut into thin strips

3 jalapenos, halved, seeded, and cut into thin slices

1 pound bacon strips, halved

1/4 cup butter, melted

1 lime, quartered

Instructions
Set the EGG for direct cooking, without the convEGGtor at 400°F.
Lightly oil the cooking grid to help prevent sticking.
In a small bowl mix together garlic powder, paprika, black pepper, and cayenne pepper.
Place shrimp in a large bowl and season with 3/4 of the spice mixture, tossing to evenly coat.
Working with one shrimp at a time, make a slit about 3/4-inch along the base of shrimp.
Place one jalapeno slice and one cheese slice in the slit, then wrap the base of shrimp all the way around with half a slice of bacon. Repeat with rest of shrimp.
Thread shrimp onto skewers and season lightly with remaining spice mixture.
Brush shrimps lightly with melted butter.
Allow the shrimp to sit for 5 minutes prior to cooking.
Place the shrimp directly on the cooking grid. Cook 3 – 4 minutes.
Flip the shrimp and repeat.
Allow cooling for 10 - 15 minutes.
Serve with lime wedges.

---