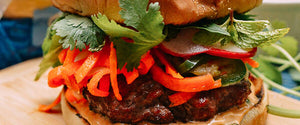 BANH MI BURGER
---
Recipe courtesy of Sarah Leung in partnership with Cobblestone Bread Co. For more recipes from Sarah, visit their blog thewoksoflife.com.
Ingredients
2 carrots, julienned or spiralized




1 small bunch radishes, thinly sliced




1 jalapeño, thinly sliced (optional)




¼ cup rice wine vinegar




2 tablespoons sugar




¼ cup mayonnaise




1 clove garlic




2 tablespoons Sriracha or sambal




1 tablespoon fresh lime juice




salt and pepper




1 ½ pounds ground beef (preferably 80% lean)




1 tablespoon canola oil




4 slices cheddar cheese




4 Cobblestone Bread Co.™ Kaiser Rolls




Mint, Thai basil, and cilantro



Instructions
Combine the carrots, radishes, and jalapeño in a mixing bowl and toss with the vinegar and sugar. Set aside. In a medium bowl, combine the mayonnaise, garlic, Sriracha, and lime juice. Season with salt and pepper and set that aside as well.




Divide the beef into 4 equal portions about 6 ounces each. Form each portion into a ¾ inch thick burger, making a depression in the center with your hand. Season with salt and pepper, and brush the burgers lightly with oil.




Heat EGG over high heat (450-650°F/232-343°C). Grill the burgers for 3 minutes on the first side, until slightly charred and golden. Flip the burgers and cook on the other side for another 3 minutes. Top with the cheese and cook for another minute (for medium rare. You can adjust the cooking times according to your desired doneness).




Meanwhile, place the rolls on the EGG cut-side down and lightly toast for a couple minutes.




By now, your burgers should be done. Remove from the EGG and tent with foil to allow them to rest for a minute. Spread the spicy mayo onto each roll, and top with the burgers. Then top with your pickled vegetable mix and herbs. Serve!



Makes 4 sandwiches
---