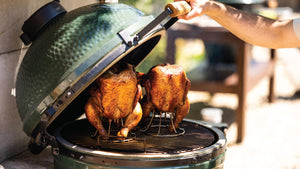 [BASICS] How to ROAST on a Big Green Egg
---
Often used for large cuts of meat, like turkey, chicken, roast, or ham, Roasting is a time-tested and fool-proof way to get mouth-watering results on the Big Green Egg.
This indirect cooking method ensures your food stays untouched by the flames while providing an even heat source that surrounds your food and locks-in flavor.
Watch our short video on Roasting and leave your next dinner guests speechless, standing in line for seconds.
---