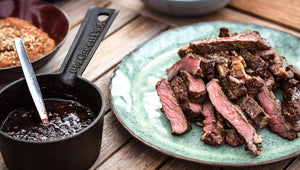 BEEF BULGOGI
---
This bulgogi recipe is a must for your Korean BBQ. But this delicious grilled beef can also be served as a snack. Wrap the meat, some boiled rice, some bulgogi sauce and spring onions in a crispy leaf of lettuce and you'll have a tasty treat!
INGREDIENTS
For the marinade and the sauce:
4 tbsp soy sauce
2 tbsp sesame oil
2 tbsp lemon juice
4 tbsp sugar
2 tsp coarsely ground black pepper
½ pear
2 shallots
3 cloves of garlic
1 tbsp sunflower oil
1 tbsp cornflour
To build wraps (optional):
Spring onion cut into rings, to sprinkle over the meat
Leaves of lettuce, to wrap the meat in
Boiled rice, for in the lettuce wrap
METHOD
For the marinade and the sauce, combine the soy sauce, sesame oil, lemon juice, sugar and the pepper. Divide the mixture over two dishes, one for the marinade and one for the sauce.
Peel the pear and remove the core. Cut the fruit into small cubes. 
Peel 1 shallot and cut into half rings. 
Peel 2 of the garlic cloves and chop finely. 
Mix the pear, shallots, and garlic into the marinade mixture and mix in the meat. Cover and leave to marinate in the refrigerator for 3 hours. 
Cover the second dish with the sauce mixture too. This can be left at room temperature.
Ignite your Big Green Egg and heat, with the Cast Iron Grid, to a temperature of 400°F. In the meantime, peel the other shallot and clove of garlic for the sauce. Cut the shallot into half rings and chop the garlic.
On the EGG, heat up the sunflower oil in the Cast Iron Sauce Pot on the side of the grid.
Take the ribeyes out of the marinade and wipe them off. Keep the marinade separate to use later on.
Place the ribeyes on the grid next to the pan. Grill for 1.5 minutes, give them a quarter turn to create a nice grill pattern and grill again for another 1.5 minutes. Flip the ribeyes and grill this side for 2 x 1.5 minutes as well. Close the lid of the EGG after handling the food.
Take the meat out of the EGG and set aside under aluminum foil. Add the shallot and the garlic to the pan and fry for a few minutes until the shallot is glazed.
Add the marinade you set aside and the sauce mixture you saved and bring to a boil.
Let simmer for about 2 minutes. In the meantime, cut the ribeye into slices and place them on a serving dish.
Check to make sure the sauce is thick enough. If not, stir the cornflour into a bit of water and mix that into the sauce.
Then, let simmer for 2 more minutes.
Serve the sauce with the rings of spring onion, the lettuce, the boiled rice and the ribeye to make wraps.
---