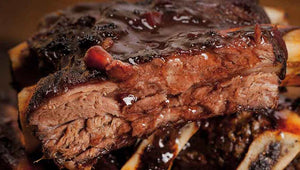 BIG, BAD, BEEF RIBS with BEER
---
Ingredients
1 Rack Beef Plate Short Ribs, 3-4 bones, and 5-6 pounds

Olive oil

Kosher salt

Black pepper, coarsely ground

Granulated garlic

1 bottle dark beer

Instructions
Set the EGG for indirect cooking, with the convEGGtor at 265°F with a small amount of oak wood added for flavor.
Peel the membrane from the bone side of the ribs.
Brush the ribs all over with a light coating of olive oil.
Season liberally with salt and pepper and lightly with the granulated garlic.
Place the ribs directly on the cooking grate bone side down and cook for 2 hours.
Flip the ribs and cook for another hour or until the ribs are deep golden brown.
Place the ribs in a foil pan and pour the beer over them.
Cover tightly with foil and return to the EGG.
Continue cooking until the ribs are very tender to the touch and have reached an internal temp of at least 200°. The ribs will shrink quite a bit. This should take another 2-3 hours but they're not done until they are very tender.
Remove the ribs from the pan and cut into individual bones.
Serve whole or cut into serving sized pieces.
Serve with white bread, pickles, raw onion slices and barbecue sauce on the side.

Serves 4
---