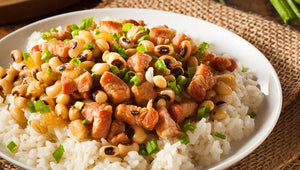 BLACK EYED PEAS w/ HAM (Hoppin' John)
---
Ingredients
4 Tbsp butter
1 whole medium yellow onion, chopped
4 cloves garlic, minced
1 whole green pepper, diced
2 stalks celery, diced
4 cups black-eyed peas, soaked at least 6 hours
5 cups chicken broth
1 ham hock
Salt and pepper, to taste
½ tsp cayenne pepper
½ tsp basil
¼ tsp thyme
¼ tsp oregano
1 bay leaf
2 Tbsp white vinegar
4 cups white rice, cooked
Instructions
Set the EGG for indirect cooking with the convEGGtor at 350°F/177°C.
Heat butter in a Big Green Egg cast iron Dutch Oven.
Add onion, garlic, green pepper, and celery. Cook for 5 minutes.
Stir in soaked black-eyed peas, chicken broth, ham hock, salt and pepper, cayenne, basil, thyme, oregano, and bay leaf. Cook for 30 minutes.
Stir in vinegar. Serve over the cooked rice.
Serves 10
---