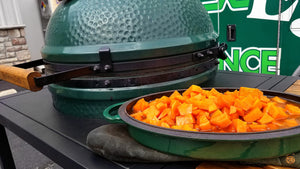 Bourbon & Brown Sugar Sweet Potatoes on the Big Green Egg
---
Easy side dishes that everyone loves can be really hard to find... especially during the holidays. But today, we have a winner! These Brown Sugar Roasted Sweet Potatoes come together with only a few ingredients and are going to be a fan favorite in your house during Thanksgiving.
Ingredients
5 Sweet Potatoes
1 cup Water
2 cups Orange Juice
3 cups Light Brown Sugar
2 Tbsp Vanilla Extract
2 tsp Orange Zest
2 tsp Ground Cinnamon
1/2 tsp Salt
1/2 cup Bourbon
1 stick unsalted butter, cut into pieces
Method
Set up your EGG for direct cooking at 350°F.
Once up to temp, place your enameled dutch oven into the EGG to preheat (about 10 minutes).
Combine your water, orange juice, brown sugar, vanilla, orange zest, cinnamon, and salt in the dutch oven. Mix together well.
Add your sweet potatoes and arrange evenly in the dutch oven.
Place your lid on the dutch oven, close the EGG dome, and cook for approximately 20 minutes.
Once your sweet potatoes are mostly tender, remove the lid and add your bourbon and butter to the mixture.
With the lid removed, cook for another 15 minutes.
Once finished, remove from the EGG and let cool for 10 minutes.
Be sure to follow us on our social channels:
Facebook - https://www.facebook.com/outdoorhome
Instagram - https://www.instagram.com/outdoorhome417
Twitter - https://twitter.com/outdoorhome
#BigGreenEgg
#BGE
#EGGhead4life
#bgeteamgreen
#BetterOnAnEGG
#BGENation
#EGGhead
#StayAtHome
#kamado
#sweetpotatoes
#bourbon
#thanksgiving
---