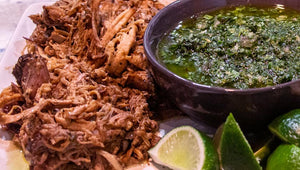 BRAISED CARNITAS w/ CHIMICHURRI SAUCE
---
Ingredients
4 lbs. boneless pork shoulder
3 tbsp olive oil
1 can of Cola
2 oranges, juiced
6 limes, 2 juiced and 4 sliced in wedges for serving
2 jalapeños, seeded and chopped
1 yellow onion, diced
2 tbsp garlic, minced
Flour tortillas
Method
Set the EGG for direct cooking without the convEGGtor at 400°F/204°C.
Rinse pork and pat dry. Season the entire pork shoulder liberally with the rub.
Place a Big Green Egg Dutch oven on the grid and add the oil to heat. Add the pork shoulder and sear on all sides until lightly browned.
Remove the Dutch oven from the EGG. Add the convEGGtor for indirect cooking and stabilize the EGG at 300°F/149°C.
Arrange the shoulder in the Dutch oven with the fat cap facing up. Pour the Coca-Cola®, orange juice and lime juice into the Dutch oven. Add the jalapeños, onion and garlic over the top of the pork. Cook for 4 ½ to 5 hours until meat pulls apart easily.
Carnitas Rub Ingredients
2 tbsp oregano
3 tsp cumin
3 tbsp olive oil
3 tbsp salt
3 tbsp pepper
Carnitas Rub Instructions
Mix all the ingredients together.
Chimichurri Sauce Ingredients
3 tsp. minced garlic
½ tbsp. salt (more to taste if needed)
2 cups cilantro, finely chopped
3 tbsp oregano
1 cup parsley, finely chopped
¼ cup minced red onion
1 lime, juiced
2 tbsp. white wine vinegar
1 cup EVOO
Chimichurri Sauce Instructions
Crush the garlic and salt together to make a paste.
Add cilantro, oregano, parsley, red onion and lime juice until combined.
Add white wine vinegar and EVOO, mix and add salt/pepper to taste.
Serve over the carnitas with tortillas.
---