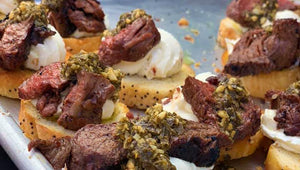 BRAZILIAN PICANHA BRUSCHETTA
---
A crowd favorite at the 2020 Beer, Wine, Cheese, and Chocolate Festival!
INGREDIENTS
1 baguette sliced into ¼" slices
1 stick melted butter 
3 cloves crushed garlic
1 Whole Beef Picanha (cut into steaks)
Steak seasoning
8 oz cream cheese softened
4 oz goat cheese
2 Tbsp Olive Oil
¼ tsp ground red pepper
Salt

Chimichurri
METHOD
Set up your EGG for indirect cooking with the convEGGtor (legs up) at 600°F.
Season the Picanha with your preferred steak seasoning and allow to rest while preparing other ingredients.  
Slice the baguette and spread with your melted butter and crushed garlic before toasting on the EGG for approximately 2 minutes. 
Use a stand mixer to whip together cream cheese, goat cheese, olive oil, ground pepper, and salt to taste.  
Grill the Picanha to your desired temperature, and allow to rest for 10 minutes prior to slicing.  Slice the Picanha into thin strips against the grain.  
Spread toasted baguette with whipped goat cheese mixture and top with sliced Picanha and chimichurri.
---