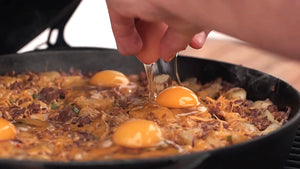 Breakfast on the Big Green Egg
---
You may have your steaks, burgers, and ribs on lock... but how's your breakfast game? If you're only firing up the grill during the PM hours, you're really missing out. So in this video, we're going to put an end to the boring mornings you're used to with a cast-iron skillet recipe for sausage, egg, and potato hash all cooked on the Big Green Egg.
Getting a crispy Crispy Chorizo and Potato Breakfast Hash on your Big Green Egg is easy to do. Looking for a delicious breakfast option to cook on your grill look no further than this recipe!
Ingredients
1lb of your favorite sausage
1 pound gold new potatoes
1 cup diced yellow onion
1 cup diced poblano pepper
Salt (to taste)
6 eggs
Instructions
Preheat the Big Green Egg to 400°F using indirect setup
Quarter the potatoes
Remove the sausage from it's packaging
Dice the yellow onion and poblanos and set aside
Pour the water into a cast iron skillet and set on your grill grate.
Close the EGG and let the water come to a slow boil (about 10 minutes)
Add potatoes and close the BGE and let cook until fork tender (about 10 minutes)
Remove the potatoes and drain (set to the side)
Place your cast iron skillet on the grate of the BGE, close lid, let the skillet reheat (about 5 minutes)
Add the sausage and chop up with wooden spoon to get crumbled sausage
Let cook for 5 minutes or so then add the diced onions and poblanos and stir well
Add the potatoes after another 5 minutes and stir well until the potatoes, onions, poblanos, and sausage are mixed well
Press down on the hash and create pockets for the eggs
Crack the eggs and add them to the top of the hash
Close the EGG and let cook 10 minutes or so until the eggs are done
Remove cast iron skillet, garnish with your favorite salsa or hot sauce
Serve and enjoy!
---