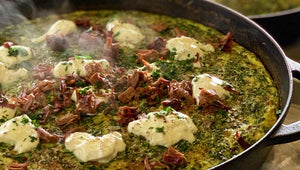 BRISKET SPINACH FRITTATA
---
Ingredients
14 eggs
1 whole yellow onion, diced
2 Tbsp extra virgin olive oil
1 lb. smoked brisket flat (cooked, sliced and then pulled apart)
¾ cup goat cheese
1½ cup fresh spinach, chopped
Salt and pepper to taste
1 cup half-&-half
Method
Set the EGG for indirect cooking with the convEGGtor at 400°F/204°C.
Heat the extra virgin olive oil in a 14-inch Big Green Egg Cast Iron Skillet. Cook the diced onions until they are soft and slightly caramelized. Add the spinach to the onions with a pinch of salt.
While the onions and spinach are cooking, whisk the eggs in a bowl with salt and pepper, and heavy cream.
Add the egg mixture and stir to get all the spinach and onion even. Add the pulled brisket into the still wet mixture, while reserving about a cup of brisket.
Bake for 12 minutes, or until slightly golden. Add the goat cheese in pieces all over the top of the frittata. Close the lid and cook for another 3 minutes.
Sprinkle remaining cup of brisket on the top of the frittata.
Serve immediately.
Serves 15
---