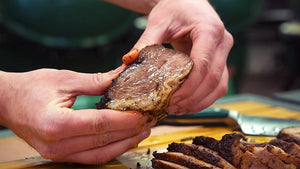 "Brisket Style" Tri-Tip Roasted on the Big Green Egg
---
When it comes to smoked meats, there's one that most would consider "The King of Meats" and it's brisket. The tasty bark, the juicy slices, and the smoky flavor... it's absolutely unbeatable.
But what if there was a way you could achieve the same delicious results as brisket but for less money and much, much less time...
Would you be interested?
If so, we're here to throw you a curve ball full-of-flavor and teach you how to make a Tri-Tip taste just like brisket on your Big Green Egg!
---