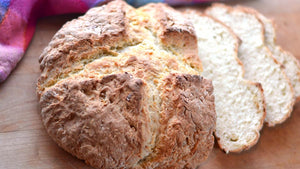 BROWN SODA BREAD
---
Irish soda bread is best if served with Irish stew and an Irish stout.
Ingredients
2 cups all-purpose flour
1 cup whole wheat flour
1 tsp baking soda
½ tsp salt
½ tsp ground ginger
1¼ cups buttermilk, plus extra if needed
3 tbsp molasses
Instructions
Set EGG for indirect cooking at 375°F.
Combine all-purpose flour, whole wheat flour, baking soda, salt and ginger in a large bowl; mix well. Add buttermilk and molasses and mix well.
Combine to make a dry, rough dough; add additional buttermilk if needed. Transfer dough to a Dough Rolling Mat  or a lightly floured surface. Knead 8 to 10 times until  smooth, don't over knead. Shape dough into a loaf 1½ inches thick. Cut halfway through the dough, scoring the top of the loaf. Dust dough with flour.
Place on a Pizza & Baking Stone and add to the EGG. Bake about 35 minutes or until bread sounds hollow when tapped. Remove to cooling rack to cool slightly. Serve warm with Irish Stew.
---