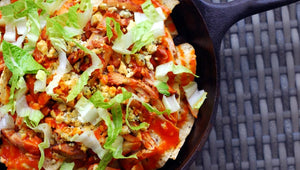 BUFFALO CHICKEN & BLUE CHEESE SKILLET NACHOS
---
Ingredients:
6 boneless skinless chicken thighs

1 bottle franks red hot sauce

1 stick butter

1 bag of tortilla chips

8 oz of blue cheese

1 head romaine or iceberg lettuce

For the Ranch Dressing:
1 cup of olive oil or avocado oil

1 egg yolk

juice of 1/2 lemon

1 tbsp Dijon mustard

1/4 cup coconut milk (you can substitute buttermilk or sour cream if you like)

2 garlic cloves

2 tbsp chopped fresh dill

2 tbsp chopped flat leaf parsley

sea salt, fresh ground pepper to taste

Instructions
Grill the chicken thighs for about 10 minutes or until an instant-read thermometer reads 165 degrees internally. Remove once you've reached your internal temp and let them cool.

While the chicken is grilling, go ahead and make your Ranch. If you use store bought you can skip this step (but it won't be the same!).

In a mason jar, combine the oil, egg yolk, and mustard with an immersion blender until creamy (you are making homemade mayo!). Next, add your coconut milk and the remaining ingredients until you've got the right constancy (you can add more coconut milk if you need to- try only to use the cream on the top).

Next, take a 12" cast iron skillet and add chips to the bottom until it is about 1/2 full. Add your cheese all around.
Chop your chicken thighs into thin pieces and scatter on the bed of chips.

Place your skillet back on the grill and let it bake for another 5 minutes or until the cheese has begun to melt and get a little smoked. (Be careful when removing the skillet and remember to use pot holders- it will be hot).

Thinly chop your lettuce with a knife and add to the top of the nachos.
Next, drizzle additional hot sauce on the top, and then ranch dressing.
You can serve with additional hot sauce and ranch on the side in case your guests would like extra sauce.

---