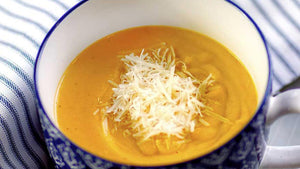 BUTTERNUT SQUASH SOUP
---
Butternut Squash Soup with Savory Pecan Seasoning prepared on the Big Green Egg.
Recipe courtesy of Taylor Shulman, Big Green Egg Culinary Center.
Ingredients
4 lbs. butternut squash, peeled and diced

3 tbsp Big Green Egg Savory Pecan Seasoning

2 cups heavy cream or coconut milk

1 to 3 cups of vegetable stock, depending on desired thickness

1 head of garlic with the top removed

3 tbsp olive oil

Salt and pepper to taste

Instructions
Set the EGG for indirect cooking with the convEGGtor at 375°F/191°C.

Place the cubed squash into a Big Green Egg Cast Iron Dutch Oven and toss it with the Savory Pecan Seasoning. Add to the EGG and roast until the squash becomes soft, about 30-40 minutes. Add the head of garlic to the Dutch oven and cook for an additional 30 minutes. Set aside to cool and remove the skin from the garlic cloves.

In a blender, puree the softened squash, garlic cloves, olive oil and cream. Pour half of this back into the Dutch oven. Depending on the thickness you prefer for the soup, add the vegetable stock to the blender in batches with the squash and puree it further, then stir it back into the Dutch oven until you have reached the desired thickness.

Cover and place back on the EGG for 10 minutes until heated through. Add salt and pepper to taste.

---