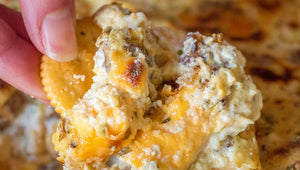 CHEESY HISSY-FIT DIP
---
When this bad boy comes out off the EGG, you're going to need to fend people off with a stick :) We also threw in a bunch of herbs, so it's got a real depth of flavor that will have you hooked after one bite. You might go into this thinking, "just one bite," but give up on that now. It's impossible to say no to this stuff, so give in and let its goodness wash over you – you won't be disappointed!
INGREDIENTS
1 pound ground sausage
1 (16 oz.) container sour cream
1 (8 oz.) package cream cheese, softened
1 (8 oz.) package Velveeta cheese, cubed
4 oz. Monterey jack cheese, grated
2 tablespoons fresh chives, minced, optional
1/2 tablespoon Worcestershire sauce
1 teaspoon dried parsley
1 teaspoon onion powder
1/2 teaspoon garlic powder
1/2 teaspoon dried sage
Chips/Crackers
METHOD
Light your EGG and set up for indirect cooking (with the convEGGtor) at 350º F. Lightly grease a square baking dish or enameled cast iron skillet with non-stick spray.
Place your cooking dish in the EGG and add your ground sausage. Cook until brown and then drain.
In a large bowl, combine sour cream and softened cream cheese in a large bowl, and stir in Worcestershire sauce, parsley, onion powder, garlic powder and sage until incorporated.
Fold in sausage, Velveeta, jack cheese, and chives until mixed in thoroughly, then transfer mixture to baking dish.
Return the mixture back to the EGG and bake for 50-60 minutes, or until molten, bubbly and golden brown on top.
Remove from the EGG and serve hot with chips or sliced baguette.
---