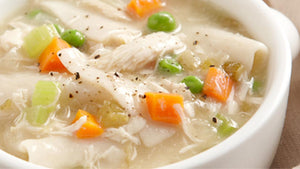 CHICKEN & DUMPLINGS
---
Contributed by Helen Brock, courtesy of Springer Mountain Farms.
Ingredients
1 whole chicken

2 quarts water

3 tsp salt

¼ tsp pepper

1 cup onion, chopped

½ cup celery, chopped

1 clove garlic, minced

8 oz. sour cream

2½ cups flour

3 eggs

½ cup water

2 tsp salt

Instructions
Set the EGG for direct cooking at 325°F/163°C.

Combine chicken, water, salt and pepper in Dutch oven. Bring to a boil. Reduce heat; cover and simmer 1 hour. Remove chicken pieces; cut chicken into bite-size pieces, discarding skin and bones. Return chicken to broth along with onion, celery and garlic.

Cook 20 minutes. Add sour cream.

Combine flour, eggs (well beaten), water and 2 teaspoons salt and beat until batter is smooth. Drop batter by 1/2 teaspoon into boiling pot. Cover and simmer 15 minutes.

Serving suggestion: serve in soup bowl with homemade biscuits.

---