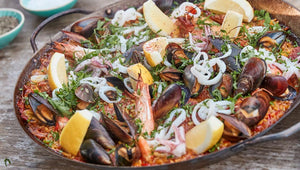 CHICKEN & SEAFOOD PAELLA
---
It's party time. This one-pan wonder paella performs perfectly. Crack open the cerveza, sip on sangria and watch the sun go down with some amigos.
INGREDIENTS
8 chicken thighs
Good quality Chorizo ring cut into chunks
Raw king prawns
Fresh squid
Fresh mussels (optional)
1 sliced onion
3-4 garlic cloves
1 sliced red pepper
Frozen peas
2 tablespoons olive oil
1 Pack of Paella rice
Approx. 5 cups of good quality chicken stock
A good pinch of Saffron
1 teaspoon of Turmeric
2 teaspoons Paella Paprika or Spanish Paprika
Salt & Pepper
2 lemons cut into wedges for garnish
Fresh chopped flat-leaf parsley for garnish
EGG SETUP
Direct cooking, with the ConvEGGtor legs down with Paella Pan sitting on top. Target temperature around 475°F.
METHOD
Prepare all the ingredients ready for cooking.
Heat the oil and fry the Chorizo for about a minute each side. This will color and flavor your oil, take out the Chorizo and place to one side.
Add your chicken thighs, skin side down first and cook until browned on both sides, remove and set aside with the Chorizo.
Add your onions, garlic, and peppers and cook until soft then add your saffron, turmeric, and paprika.
Sprinkle the Paella rice evenly over the pan and stir so that the grains are coated in the seasoned mixture.
Add the stock until the mixture is well covered, this will be absorbed during the cooking process.
Add the chicken, chorizo, any meat juices, and the petit pois, but do not stir.
Simmer for approximately 15-20 minutes until the liquid has been absorbed, the rice starts to swell and makes a popping sound. Then add your prawns, squid, and mussels and cook for a further 3-4 minutes until the prawns are pink and the mussel shells have opened.
Top with the chopped parsley and serve with lemon wedges and a green salad.
---