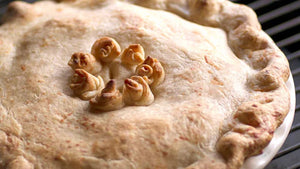 CHICKEN POT PIE
---
This will be your go-to recipe! Chicken Pot Pie made with our Savory Pecan Seasoning and baked to a golden brown on the Big Green Egg.
Recipe courtesy of Taylor Shulman, Big Green Egg Culinary Center
Ingredients
3 cups frozen vegetable medley

1 lb. chicken thighs, boneless and skinless

Big Green Egg Savory Pecan Seasoning

1 cup white onion, diced

1 cup butter

1 cup flour

1 cup whole milk

1½ cups chicken stock

Salt and pepper to taste

2 tbsp olive oil

2 pie crusts

Instructions
Set the EGG for indirect cooking with the convEGGtor at 425°F/218°C.

Season the chicken thighs with Savory Pecan Seasoning and cook for 10 minutes per side, or until a 165°F internal temperature is reached. Chop the chicken and set aside to cool.

Preheat a Cast Iron Dutch Oven, then toss in the vegetables and sauté until they have a light char; set aside to cool. Add the butter and diced onion to the Dutch oven and cook until translucent. Add the flour to create a roux; stir for 4 minutes then slowly add in the milk, followed by the stock, stirring consistently. Add in the chicken, vegetables and salt and pepper to taste.

Place the bottom pie crust into a greased pie pan and spoon in the filling. Cover with the top crust and crimp all the way around using your thumb and forefinger, being sure to seal the top and bottom together tightly. Using a paring knife make slits in the shape of a star in the center of the pie to allow steam to release. Cook for 30-35 minutes or until the crust is golden brown.

---