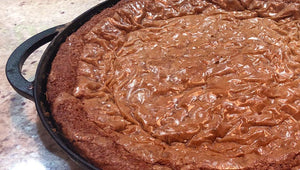 CHOCOLATE CHIP COOKIE BROWNIE
---
Ingredients
1 lb. unsalted butter
1 cup granulated sugar
2½ cups light brown sugar
2 tsp. vanilla extract
4 large eggs
3 cups all-purpose flour
1½ tsp. baking soda
1½ tsp. salt
1½ cup white chocolate chips
1½ cup semi-sweet chocolate chips
Method
Set the EGG for indirect cooking at 325°F.
Place the cast iron skillet in the EGG and melt the butter. Remove the skillet from the EGG and place on a non-heated surface.
Add the sugar and light brown sugar to the melted butter and stir until it is uniform. There might be a little extra butter around the edges – but that's okay. Let the mixture cool until it is at room temperature.
Once the mixture in the cast iron has cooled to room temperature, add the eggs and vanilla extract (the butter/sugar mixture has to cool prior to adding the egg or the egg will cook); mix thoroughly.
Mix the flour, baking soda and salt together, and then begin blending this into the wet ingredients in the skillet. Once this is a uniform mix, add the chocolate chips and stir to blend well.
Bake on the EGG for 30-40 minutes or until golden brown and a toothpick comes out of the middle clean. Let set and cool for 10 minutes, then cut and serve warm either alone, or with vanilla ice cream.
Yields 15-25 servings if made in the Big Green Egg 14 inch skillet.
---