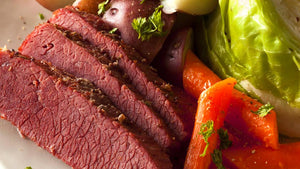 CORNED BEEF AND CABBAGE
---
Ingredients
3 pounds corned beef brisket with spice packet
1 can or bottle Irish Stout
10 small red potatoes
5 carrots, peeled and cut into 3-inch pieces
1 large head cabbage, cut into large wedges
2 bay leaves
Instructions
Set EGG for direct cooking (no convEGGtor) at 450°F/232°C. Place the corned beef in the Dutch oven and cover with water and the stout; add the spice packet that came with the corned beef and cover. Place on the cooking grid and bring to a boil, then reduce the temperature to 350°F/177°C. Simmer approximately 50 minutes per pound or until tender.
After two hours, add whole potatoes and carrots, and cook for 15 minutes. Add cabbage and cook for 15 more minutes. Remove meat and let rest for 15 minutes.
Place vegetables in a bowl and cover with some of the broth. Slice meat across the grain and serve with warm bread.
---