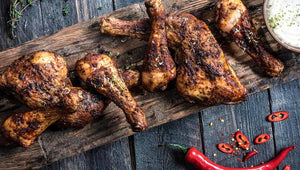 CRISPY CHICKEN w/ BASIC RUB
---
This rub recipe is not only suitable for chicken, but you can also use it for spareribs, pulled pork, pork fillet, and even prawns. You can, but don't have to, let the rub be absorbed into the meat before cooking it. Leaving the rubbed chicken to marinate in the refrigerator for two to three hours will intensify the flavor.
INGREDIENTS
FOR THE CHICKEN
4 chicken legs or 8 drumsticks
olive oil
barbecue sauce of your choice, e.g. white barbecue sauce
FOR THE RUB
½ tsp cumin seed
1 tbsp paprika powder
1 tbsp fine sea salt
1 tbsp garlic powder
1 tbsp brown castor sugar
½ tbsp onion powder
½ tbsp dried thyme
½ tbsp lime zest
1 tsp chili flakes
½ tsp cayenne pepper
METHOD
Ignite the charcoal in the Big Green Egg and heat the EGG, with the convEGGtor, to 400°F. To prepare the rub; finely crush the cumin seeds in a mortar and mix thoroughly with the other rub ingredients.
When using chicken legs, apply the rub under the skin of the thigh by carefully lifting the skin. This will bring the rub into contact with the meat, making it extra tasty. You can apply the same method on all cuts of chicken that have a larger piece of skin (note: this does not apply to drumsticks or chicken wings). Brush the outside of the chicken with a little bit of olive oil, sprinkle the rub over the chicken and press it in gently. Keep the remaining rub for future use.
Spread the chicken legs and/or drumsticks over the grid, close the lid of the EGG and roast the chicken for approx. 20 minutes.
Turn the chicken over and roast for another 15-25 minutes. Remove the chicken from the EGG and serve with the sauce.
---