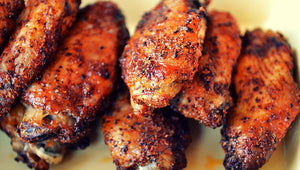 DRY RUBBED CHICKEN WINGS & RÉMOULADE SAUCE
---
"These wings are cooked simply with the dry rub and served that way. I happen to like them just that way, but many of my friends prefer a sauce of some kind so I've made this Rémoulade Dipping Sauce to serve on the side. This version isn't very spicy, but feel free to add a chopped jalapeño or some additional hot sauce, if you'd like it hotter. These would go very well served with french fries – and don't be afraid to dip the fries in the rémoulade, too."
Ingredients
10 fresh whole chicken wings

Chicken Wing Dry Rub (as needed)

Rémoulade Dipping Sauce

1 cup mayonnaise

¼ cup prepared chili sauce

¼ cup sweet pickle relish

½ teaspoon hot sauce

¼ teaspoon dried tarragon leaves

Ingredients (Dry Rub)
2 tablespoons salt

2 tablespoons Sugar In The Raw

2 tablespoons granulated garlic

2 tablespoons onion powder

2 tablespoons paprika

2 teaspoons good quality chili powder

2 teaspoons black pepper, finely ground

1 teaspoon lemon pepper

1 teaspoon ground cumin

¼ teaspoon cayenne pepper

Instructions
With a sharp knife, cut the tips off the chicken wings and save them for stock. Slash the inside of the wing joint to help them cook more evenly, but don't cut them all the way through.
Sprinkle liberally with the Chicken Wing Dry Rub. Set aside.

To make the rémoulade: Put the mayonnaise, chili sauce, pickle relish, hot sauce, and tarragon in a medium bowl. Mix well. Cover and refrigerate.

Prepare the grill for cooking over direct medium heat.
Grill the wings for about 25 minutes, turning often. The wings are done when they are nicely browned and the juices run clear.
Remove the wings to a platter.
You may serve the wings whole, but if you'd prefer to serve them in individual segments, cut them apart now.
To serve, transfer to a platter, with the rémoulade on the side for dipping.

Makes 10 servings
---