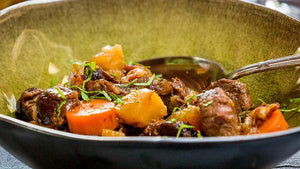 DUTCH OVEN IRISH STEW
---
Irish Stew goes great with Irish stout beer & Irish Soda Bread!
Ingredients
4 tbsp olive oil, divided
3 lbs boneless lamb or beef chuck roast, cut into 1 inch cubes
3 tbsp Big Green Egg Sweet & Smoky Seasoning
2 medium onions, chopped
3 stalks celery, chopped
3 tbsp all-purpose flour
1 tbsp minced garlic
1 tbsp tomato paste
2 tsp chopped fresh thyme
1 tsp salt
¾ tsp black pepper
20 ounces Irish stout
1 cup beef broth
3 carrots, peeled and cut into 1 inch cubes
4 turnips, peeled and cut into 1 inch cubes
4 medium Yukon Gold potatoes, peeled and cut into 1 inch cubes
¼ cup finely chopped fresh parsley
4 sprigs thyme
Instructions
Set EGG for direct cooking at 350°F.
Sprinkle seasoning evenly over the meat. Place Dutch Oven on the cooking grid and add 2 tbsp oil; heat until almost smoking. Cook beef about 10 minutes until browned on all sides. Remove the meat from the Dutch oven.
Add remaining 2 tbsp oil to the Dutch oven; add onions and celery and cook about 10 minutes or until softened and onions are translucent. Add flour, garlic, tomato paste, thyme, salt and pepper; cook and stir 1 minute.
Add Irish stout and return the meat to the mix. Stir in broth. Cover and cook 45 minutes. Stir in carrots, turnips and potatoes; cover and cook about 1 hour or until beef and vegetables are tender. Stir in parsley and thyme.
Serve with warm Irish Soda Bread.
---