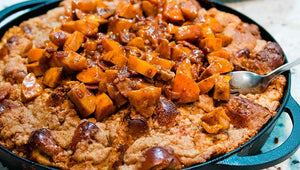 FRENCH TOAST CASSEROLE
---
Recipe adapted from myAJC.com
Ingredients

1½ loaves challah bread (or substitute with 24 Hawaiian rolls), cubed into big pieces
7 eggs
2½ cups milk
4 Tablespoons sugar
1 teaspoon vanilla
2 teaspoons cinnamon, divided
1 stick butter
1 cup flour
½ cup brown sugar
1 teaspoon nutmeg
For the compote:
6 ripe persimmons, diced into ¼-inch cubes
¼ cup apple cider vinegar
4 Tablespoons honey
3 Tablespoons sugar
2 Tablespoon lemon juice
1 teaspoon ground ginger
1 teaspoon cinnamon
½ teaspoon ground nutmeg
¼ cup water
1 Tablespoon cornstarch
½ cup crispy bacon bits
Method
Prepare the Big Green Egg for indirect cooking, using the ConvEGGtor, and stabilize at 375 degrees.
Grease a Big Green Egg two-handled skillet, or a 9-by-13-inch casserole dish, and place cubed bread into it, filling the skillet or dish entirely.
Whisk together the eggs, milk, sugar, vanilla, and 1 teaspoon cinnamon in a bowl. Pour the mixture over the bread and cover. Let soak at least 1 hour, or overnight.
To make the topping, combine the butter, flour, brown sugar, nutmeg and remaining 1 teaspoon cinnamon in a food processor. Pulse until combined into a crumble. Add the topping evenly over the bread and bake at 375 degrees for 45 minutes. Serve with syrup or persimmon compote.
FOR THE COMPOTE
In a saucepan over medium heat, combine the persimmons, vinegar, honey, sugar, and lemon juice. Cook 5 minutes, stirring often. Add the ginger, cinnamon, and nutmeg.
In a small bowl, whisk together the water and cornstarch. Stir it into the saucepan. Reduce to low heat and let cook 10 minutes.
Stir in crispy bacon. Ladle over French Toast Casserole and serve.
---