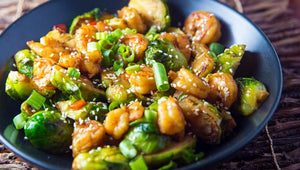 GINGER GARLIC SHRIMP STIR FRY
---
This Asian inspired stir fry from thebbqbuddha is both light and delicious. Big Green Egg Ginger Garlic Shrimp Stir Fry over Honey Glazed Brussels Sprouts is a winning combination.
INGREDIENTS
3 Tbsp. honey
1 Tbsp. rice wine vinegar
1 Tbsp. soy sauce
1 Tbsp. garlic chili sauce
2 tsp. freshly grated ginger
1 pound large shrimp, peeled and deveined
2 Tbsp. olive oil
1 pound brussels sprouts, blanched, trimmed, halved
1 red bell pepper, diced
salt and pepper
3 cloves garlic, thinly sliced
3 scallions, white and green parts separated and chopped
2 tsp. toasted sesame oil
METHOD
Mix together 2 Tbls honey, vinegar, soy sauce, garlic chili sauce, and ginger in a large bowl.
Add shrimp and mix to combine.
Cover the bowl and let marinate in the refrigerator for 3 hours.
Preheat the BGE to 500°
Add the Cast iron Wok
Heat 1 tablespoon olive oil in a wok an add Brussels sprouts and red bell pepper
Sauté for about 5-7 minutes stirring every now and again until the Brussels sprouts brown.
Pull them out and place in a serving bow then drizzle with honey, salt and pepper, and mix together.
Add remaining 1 tablespoon vegetable oil to Wok add garlic and scallion whites then cook for 30 seconds.
Remove the shrimp from the marinade and add to the Wok.
Stir Fry about 4 minutes until the shrimp curl and turn pink.
Add to the bowl, drizzle with sesame oil, top with scallion greens, and toss.
Serve immediately.
---