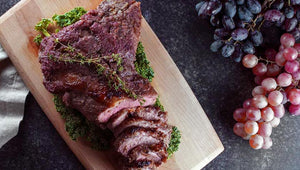 GRAPE & HATCH CHILE MARINATED TRI-TIP
---
INGREDIENTS
3½ cups red, green and black Moscato grapes, rinsed
2 tablespoons whole grain Dijon mustard
1/3 cup white wine vinegar
¾ cup Cognac
½ sweet onion, diced
3 New Mexico Hatch Chiles, roasted; peeled; stemmed and seeded
1 lime, juiced
1 green apple, cored; diced
Kosher salt and freshly ground pepper, to taste
1 Tri Tip Roast
METHOD
Set the EGG for indirect cooking with the convEGGtor at 350°F/177°C.
Place the first 9 ingredients into a sauce pan and bring to a boil. Reduce the heat and simmer for 30 minutes. Remove from the heat and using an immersion blender, carefully purée the mixture. 
Place the Tri tip in a resealable bag. Pour the marinade over the meat and seal the bag. Marinate for one hour. 
After one hour, place the meat in the rectangular drip pan and pour the marinade over the top. Bake for 35-45 minutes or until you reach your desired doneness. 
Internal Temps:
125°F/52°C Rare
135°F/57°C Medium
145°F/63°C Well Done
Makes about 6-8 servings
---