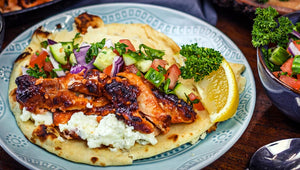 GRILLED CHICKEN SHAWARMA w/ GARLIC SAUCE
---
Simple and delicious, Grilled Chicken Shawarma is perfect when paired with light Garlic Sauce and warm, pillowy naan bread. This dish has variations across the middle east, including Turkey, Egypt, Lebanon, and Israel, it's an easy dish that is both different and guaranteed to break you out of that weeknight meal rut. Visit us online at https://www.napoleon.com for more recipes and product information.
INGREDIENTS
12 chicken thighs, boneless, skinless
1 lemon, juiced
2 tbsp. tomato paste
1 tbsp. ground coriander
3 tbsp. oil
1 sweet onion, cut in half
8 naan for serving, warmed 
Garlic Sauce (Toum)
6 cloves garlic
2 large egg whites
2 tsp. dill, dried
2 tbsp. lemon juice
1½ cups quality olive oil
Salt to taste
Cucumber Tomato Salad
1 handful fresh parsley or cilantro
1 cucumber, chopped
1 medium tomato, seeded, chopped
½ medium red onion, chopped
Remaining lemon juice
Salt and pepper to taste
METHOD
Before you begin, juice a whole lemon. You will be using it throughout the recipe. 
In a food processor or blender, pulse the garlic, 2 tbsp. of lemon juice, and egg whites until smooth. Turn the motor on to low and very slowly add the olive oil in a steady stream. The mixture will begin to emulsify. You may need to stop and scrape down the sides. Store in the refrigerator until needed. You can make the garlic sauce, toum, up to two days ahead of time. This can give the lovely garlic flavor time to develop. However, it is still delightful day of.
In a bowl, whisk together 3 tbsp. of lemon juice, tomato paste, ground coriander, oil, and ¼ cup of the garlic sauce. Pound the chicken flat and mix into the marinade. 
Marinate the chicken mixture in the fridge for at least 3 hours, up to 12 hours. 
When ready to cook, thread the chicken onto rotisserie rod starting and ending with an onion half. 
Preheat the rear burner to medium-high and load the rotisserie onto the grill. 
Cook the chicken on the rotisserie for about 60 minutes, or until the chicken is starting to char and reaches an internal temperature of around 165°F. In the last 5 to 10 minutes of cooking, warm the pita on the grill too. 
While the chicken is cooking, prepare the salad to serve with the meal. Chop the parsley (or cilantro), the cucumber, tomato, and onion. Dress with the remaining lemon juice and season to taste with salt and pepper. 
Serve the chicken on the warmed pita with the garlic sauce and salad. 
---