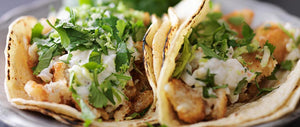 GRILLED FISH TACOS
---
INGREDIENTS
For the Fish
1 teaspoon cumin
1 teaspoon brown sugar
1 teaspoon ground coriander
2 teaspoons olive oil
24oz fresh salmon, halibut, cod, or your favorite fish
8 Soft Corn tortillas
For the Sour Cream Salsa
2 thinly sliced spring onions
1/4 cup chopped fresh coriander
1/2 cup sour cream
1 teaspoon grated lime rind
1 1/2 teaspoons fresh lime juice
1/4 teaspoon salt
1 garlic clove, minced
2 Limes- (1 for wedges, 1 for the salsa)
METHOD
Set EGG for direct cooking with the Cast Iron Searing Grid and/or Half Moon Griddle
Set EGG for direct cooking at 400°F.
In a small bowl, combine cumin, sugar, and dried coriander. 
Brush fish with olive oil and sprinkle with spice mixture. 
Grill fish on oiled Searing Grid, or perforated porcelain grid for 3-5 minutes per side until fish flakes easily with a fork. 
Heat and char tortillas on cooking grid, about 10 seconds on each side. 
Place fish in a bowl; break into pieces with a fork. 
Divide fish evenly among tortillas; top each the chopped coriander and sour cream salsa.
---