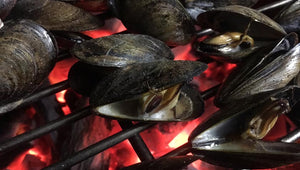 GRILLED MUSSELS with GARLIC HERB BUTTER
---
Ingredients: (Enough for 2 as an appetizer, if serving four double the recipe)
2 lb of mussels

2 lemons

1 stick butter

3 cloves garlic, minced

1 large bunch parsley or herb of your choice, chopped

Sea salt, fresh ground pepper to taste

Instructions
Prepare a grill for medium direct heat. While grill is heating up, Melt your butter over low heat. Add the garlic and herbs and let reduce down.

Grilling: If your grill grates skew to being far apart, you will need to put your mussels on a grill/veggies pan. If they are within a small enough apart, you can grill the mussels directly on the grates.
Grill the mussels until the pop open. This will be around 5 minutes or so… The ones that open move to a less-hot part of the grill while waiting on the others. Any mussels that don't open should be thrown away.

Place the mussels in a big bowl and add sea salt and pepper.
Pour the butter over the mussels.

---