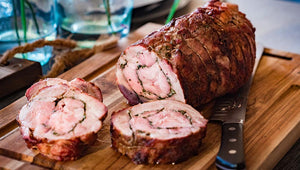 GRILLED PORK ROULADE
---
Do you usually buy your roulade ready-made from the butcher's? Then the time has come to make your own so that you can add the seasonings that you like. This roulade recipe is really easy to make with a pork loin, fresh herbs, and garlic but instead of cooking the roulade in the oven, you will, of course, be roasting it on the Big Green Egg!
INGREDIENTS
ROULADE
1 boneless center-cut pork loin roast (about 2 to 3 lbs)
sea salt
HERB MIXTURE
1 bunch of rosemary
1 bunch of marjoram
1 bulb of garlic
METHOD
Ignite your Lump Charcoal and prepare the EGG for direct cooking with the Cast Iron Grid 
Your target temperature is 400°F.
Meanwhile, for the herb mixture, remove the rosemary and marjoram leaves from the stalks and finely chop them. Peel the garlic, chop the cloves finely and mix with the herbs.
Using a sharp knife, make a horizontal cut 1/2 inch from the bottom of roast, cutting to within 1/2 inch of the opposite edge as you roll the roast exposing the cut surface. Continue cutting and rolling to make a flat piece of meat. If necessary, with a meat mallet, lightly pound the meat to even thickness. 
Season the pork loin with the herb mixture and sea salt to taste. Roll the meat starting from the short side and tie the roulade with kitchen twine.
Place the roulade on the cast iron grid and close the lid of the EGG.
Roast the roulade for about 50 minutes. Roll the pork roulade a little bit further every 5 minutes for a nice evenly crispy outside and to prevent burning. The roulade is ready when it reaches a core temperature of 140°F; you can measure the core temperature every now and then near the end of the preparation with the Instant Read Digital Thermometer.
Remove the roulade from the EGG and allow to rest for about 15 minutes, covered loosely with aluminum foil, before you cut the meat.
ENJOY!
---