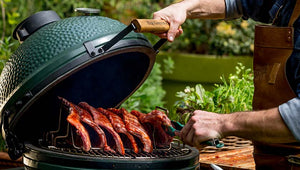 GRILLED SPARE RIBS w/ A SWEET MARINADE
---
You won't need half a day to prepare spare ribs on the BBQ thanks to this fast method on the Big Green Egg, where you grill the ribs briefly at the end of their preparation. For the sweet spare ribs marinade, you can use a simple homemade sauce that is absorbed into the meat during cooking.
INGREDIENTS
For Spare Ribs
For Marinade
2 red onions
4 bulbs of garlic
5 sprigs of rosemary
8 sprigs of thyme
3 1/2 cups ketchup
1 cup honey
1 tbsp sriracha
sea salt
PREPARATION IN ADVANCE
Light your charcoal and set up your EGG to cook indirect at 300°F. In the meantime, remove the membrane from the (concave) bottom of the ribs. Do so by sliding the back of a spoon between the membrane and the ribs. If the spoon is inserted correctly, you can remove the membrane in a single movement.
For the marinade, peel the red onions and the garlic and cut them into coarse chunks. Remove the needles from the rosemary and the leaves from the thyme. Grind these ingredients, together with the ketchup, honey and sriracha, in a food processor using the chopping blades or in a blender. Season the marinade to taste with sea salt.
METHOD
Brush both sides of the ribs with the marinade, and set aside the remaining marinade. Place them in the Ribs and Roasting Rack. Place the Disposable Drip Pan on the convEGGtor and carefully fill it with 2 cups of water. Place the grid in the EGG and place the rack with the spare ribs on it. Close the lid of the EGG and leave to cook for approximately 2 hours.
Brush the spare ribs generously with the marinade. Close the lid of the EGG and leave the spare ribs to cook for another 30 minutes.
Remove the rack with the spare ribs from the EGG. Remove the grid and the convEGGtor and place the Cast Iron Grid in the EGG. Close the lid and bring the temperature up to 400°F. In the meantime, wrap the spare ribs in aluminium foil to keep them warm. Meanwhile, make finger bowls by cutting the lemon into slices and adding them to 2 bowls with warm water.
Place the spare ribs (if necessary in portions) bottom side up on the grid. Grill the ribs for about 2 minutes, rotate them 90 degrees and grill them for another 2 minutes. Close the lid of the EGG after each action.
Serve the grilled ribs of the Big Green Egg with the remaining marinade as sauce. Place the finger bowls to clean your fingers while eating.
---