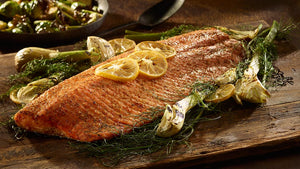 GRILLED STEELHEAD TROUT
---
Steelhead trout is similar to salmon in its color and texture and is a great choice to cook on your Big Green Egg. The convection heat that radiates within the dome caramelizes the fish nicely and the fennel gives it a fresh, sweet, licorice flavor.
Ingredients
(2) 1lb steelhead trout filets, skin on, pin bones pulled
1 meyer lemon (cut in half at equator)
2 tbsp sea salt
1 tsp wild fennel pollen
1tsp ground espelette pepper
2 tbsp olive oil
1 bunch fennel fronds and stems
Method
Set the EGG for direct cooking without the convEGGtor at 350°F with a cast iron grid, flat side up.
Squeeze one side of the lemon onto the two filets.
Season the filets with salt, fennel pollen, and espelette pepper.
Drizzle the olive oil over the filets and gently massage to work into the flesh.
Slice the remaining lemon half and lay over the steelhead.
Place the fennel directly on the cooking grid. Put the steelhead, skin down, on the fennel.
Close the dome and let the fish cook for 7-8 minutes. T
he fish is done when the flesh has turned a pale pink and flakes to the touch.
Serves 4-6
---