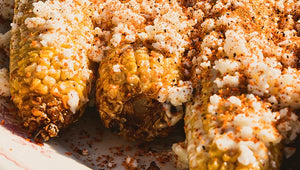 GRILLED STREET CORN
---
Ingredients
4 ears of sweet summer corn
4 tbsp mayonnaise
4 tbsp queso fresco
2 tbsp preferred chili-based seasoning
1 lime cut into small wedges
Instructions
Set the EGG for direct cooking without a convEGGtor at 350°F.
Shuck corn down to last layer of the husk and soak in water for 1 hour to saturate and prevent burning.
Place corn on grates and cook for approximately 15 minutes (the fresher the corn, the less time this will take). 
Rotate ears to cook evenly on all sides. Retrieve corn and shuck final layer when cool enough to touch.
Slather kernels with mayo and roll corn in crumbled queso fresco. 
Shake seasoning of choice over all sides of each ear of corn. 
Squeeze fresh lime to taste. 
Serve immediately.
---