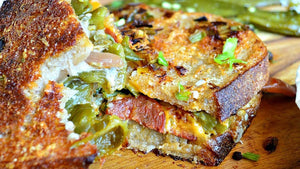 HATCH CHILE GRILLED CHEESE SANDWICH
---
Recipe adapted from ThisIsHowICook.com
Ingredients
2 slice of good artisan bread

1 T butter

1/4 c finely chopped scallions

1-2 T mayonnaise

1/4 c shredded pepper jack

1/4 c shredded sharp cheddar

1-2 freshly roasted green chilies with skin and seeds removed

1 oz dried or cooked chorizo (optional)

Pickled onions (optional)

2 T parmesan or Parmigiano Reggiano

Instructions
In a skillet large enough to hold a sandwich, melt butter over medium heat.
Add chopped scallions and let cook on low while preparing the sandwich.
Spread 1 T of mayonnaise on inside of both slices of bread. If you don't like mayo, don't do this.
Place shredded pepper jack on top of the bread.
Top with several good slices of hatch chile. Top with chorizo, if using.
Add a few pickled onions if using.
Top with shredded cheddar. Place on top slice of bread.
Spread with mayo or melted butter.
Sprinkle on 1 T of finely grated parmesan.
Place that side in scallion butter and cook on medium low heat for about 6-8 minutes.
Cover skillet with a piece of foil to help keep the heat in. Don't cover it tightly because you don't want your sandwich to steam.
Now spread the side facing you with more mayo or butter and top with the other tablespoon of parmesan.
Cook until this smells good. Then it should be about ready to flip.
Flip and cook the other side for about 6-8 minutes.
This should be ready to eat and have a crispy cheesy crust and that awesome taste of hatch chilies.
Makes 1 Sandwich
---