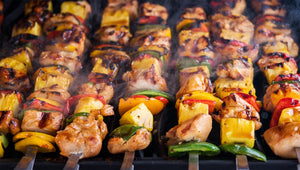 HAWAIIAN CHICKEN SKEWERS
---
This easy chicken kebab recipe is especially flavorful thanks to an easy soy and pineapple marinade and is sure to become a family favorite.
Ingredients
1 cup brown sugar
½ cup soy sauce
¼ cup pineapple juice
2 garlic cloves minced
¼ teaspoon pepper
½ teaspoon salt
1 Tablespoon cornstarch
1 Tablespoon water
4 boneless skinless chicken breasts cut into 1-inch cubes 
1 red bell pepper cut into 1-inch cubes
1 yellow red bell pepper cut into 1-inch cubes
1 green bell pepper cut into 1-inch cubes
2 cups fresh pineapple cut into 1-inch cubes
chopped cilantro for garnish
METHOD
In a small saucepan, whisk together the brown sugar, soy sauce, pineapple juice, garlic, pepper, salt, water and cornstarch.
Bring to boil and boil about 1-3 minutes until the mixture just starts to thicken. Remove from heat and reserve ¼ cup of the sauce for glazing.
Marinate the chicken in the sauce in the fridge for at least 30 minutes. Thread the chicken on skewers along with the peppers, red onion, and pineapple.
Grill for 8-10 minutes until the meat is done to desired liking. Remove from the grill and baste with reserved sauce. Garnish with green onions if desired.
---