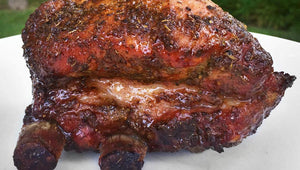 HERB-CRUSTED PORK SHORT RIBS
---
INGREDIENTS
3-4 lbs Pork Short Ribs
½ cup Dijon mustard
½ cup thyme, dried
6 Tbsp rosemary, dried
2 Tbsp oregano, dried
2 Tbsp Kosher salt
1 Tbsp black pepper
10 cloves garlic
¾ cup honey
Juice of 3 lemons
METHOD
In a mortar and pestle, crush garlic with herbs, salt and pepper to form a paste. Rub ribs completely with mustard. Covering all sides will ensure that crust adheres to the meat. Cover meat generously with herb paste, pressing gently into the meat. Place ribs in the refrigerator for 45 minutes before cooking.
In a small bowl, mix honey and lemon juice together.
Set your EGG for indirect cooking with the convEGGtor; bring the EGG to 325°F/163°C.Place ribs on opposite side of the charcoal to cook. When ribs reach 180°F/82°C, brush them with honey mixture. Remove ribs when they reach an internal temperature of 195°F/91°C. Brush once again with honey and lemon. Rest 15 minutes before slicing and serving.
---