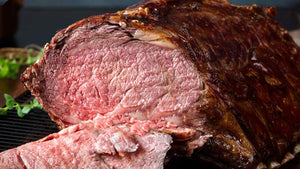 HERBED-UP PRIME RIB
---
This Herbed-Up Prime Rib recipe is courtesy of Ray Lampe's Big Green Egg Cookbook by Ray Lampe/Andrews McMeel Publishing, LLC. Photo by Angie Mosier.
Ingredients
1 (4-pound) bone-in standing rib roast

Kosher salt and black pepper

4 tablespoons salted butter, at room temperature

1 tablespoon finely chopped fresh basil

1 tablespoon finely chopped fresh tarragon

1 tablespoon finely chopped fresh rosemary

Instructions
One hour before you plan to cook, take the roast out of the refrigerator. Prepare the EGG to cook indirect – with a drip pan on the convEGGtor – at 350°F. Season the roast on all sides with salt and pepper. In a small bowl, combine the butter, basil, tarragon and rosemary and mix well. Spread the herb butter all over the roast, applying the heaviest layer to the fat cap.

Place the roast, fat side up, on the EGG cooking grid and cook for about 2 hours, or until it reaches an internal temperature deep in the center of 125°F for medium-rare.

Transfer the roast to a platter, tent loosely with foil and let rest for at least 20 minutes or up to 30 minutes. Cut the meat away from the bones and slice the roast thickly or thinly against the grain as desired. Separate the leftover beef rib bones and serve them along with the meat.

---