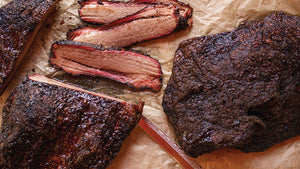 How to Smoke Brisket on a Big Green Egg
---
We totally understand how intimidating it can be to smoke a huge, expensive brisket for the first time.
Brisket is the holy grail of BBQ, and cooking it properly doesn't leave much room for experimentation or error.
It's a muscular, tough cut of beef, so low n' slow is the only way to go.
But, when prepared correctly on a Big Green Egg, smoked brisket is tender, juicy, and irresistible.
Watch our video and learn how to achieve perfect results every time using a relatively simple process.
---