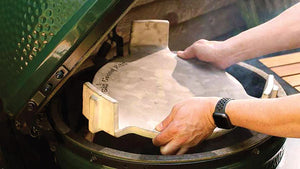 How To Use - ConvEGGtors & Baking Stones for the Big Green Egg
---
With traditional barbecue, the food is cooked directly by the heat of the flames. This is perfect for searing things like steak, burgers, and sausages.
A ConvEGGtor turns all that on its head.
This clever ceramic insert gives your food a shield from the direct heat coming off the burning charcoal, and turns your EGG into an indirect-cooking, convection oven.
With this upgrade, you can bake brick-oven pizzas, roast juicy turkeys, smoke fall-off-the-bone ribs, and cook low n' slow all day long.
---