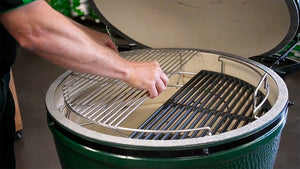 How to use the EGGspander with a Big Green Egg
---
Simply put, the EGGSpander massively increases your cooking area and offers enormous amounts of flexibility for every style of cooking.
It's composed of three core components and enhanced by dozens of complimentary pieces that you can choose from to create various cooking setups.
Watch our video below and we'll show you exactly how the 5-piece EGGspander Kit will change the way you cook on your EGG.
---