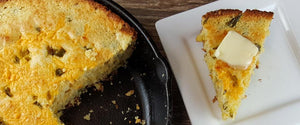 JALAPENO CHEDDAR SKILLET CORNBREAD
---
Ingredients 
DRY
1-1/4 cup of corn meal

¾ cup of all purpose flour

¼ cup of sugar

½ tsp kosher salt

½ tsp baking soda

2 tsp baking powder

WET
2 eggs

1 cup of buttermilk

¼ cup sour cream

4 tbs pickled diced jalapenos

1 cup shredded sharp cheddar cheese (1/4 divided)

¼ cup of milk

5 tbsp of butter unsalted

Instructions
Set your EGG for indirect cooking and preheat to 425F. 

Over low heat, preheat a 10" cast iron skillet. Drop in the butter to melt. Swirl the butter all over the skillet. Make sure you get the sides of the skillet so that your cornbread doesn't stick. 

Mix all dry ingredients with a whisk thoroughly. Pour the melted butter from the skillet into the dry ingredients along with the rest of the wet ingredients (reserving the 1/4 C of shredded cheese) and combine well. 

Pour the mixture into the warm skillet. Give the skillet a shake to ensure even thickness and to prevent any air pockets. Top with the 1/4 C of reserved cheese. Bake on the grill for approx 23-27 minutes or until golden brown. Allow cornbread to cool for 10 minutes before slicing. 

Original recipe can be found at BigGreenCraig.com
---