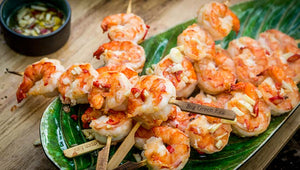 KING PRAWNS w/ GARLIC
---
King prawn skewers are always a great idea! As a starter or a main course, with lunch or as a snack on little skewers from the BBQ. Make these large prawns from the Big Green Egg even more delicious by marinating them.
INGREDIENTS
32 large peeled king prawns
sea salt
Marinade
4 bulbs of solo garlic (Chinese garlic)
2 red chili peppers
PREPARATION IN ADVANCE
Place the king prawns in a bowl. For the marinade, peel the garlic and chop finely. Remove the stalk from the chili pepper and slice the flesh finely. If you like spicy food, you can leave the seeds in. If you prefer a milder flavor, remove the seeds.
Stir the garlic and the chili pepper into the king prawns, cover and leave to marinate in the fridge for 2 hours.
METHOD
Light your lump charcoal and set the EGG for direct grilling on your Cast Iron Grid at a temperature of 400°F.
Meanwhile, skewer the king prawns on 8 Bamboo Skewers.
Lay the king prawn skewers on the grid and close the lid of the EGG.
Grill them for about 3 minutes, rotate them with a pair of tongs and grill them for another 3 minutes.
Remove the king prawn skewers from the EGG and serve them on small plates.
---