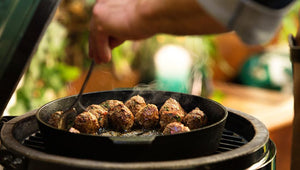 LAMB MEATBALLS w/ YOGURT DIP
---
These small lamb meatballs from the Big Green Egg will definitely impress your friends and family at a party! The recipe is very easy and you can make the meatballs and the dip beforehand. Light up your Big Green Egg during the party and when it's heated up, you can serve the meatballs within 10 minutes. How's that for a spectacular and tasty appetizer snack!
Ingredients
LAMB MEATBALLS
2 red chili peppers
4 cloves of garlic
8 sprigs of mint
5 sprigs of coriander
5 sprigs of parsley
1 kg minced lamb
2 eggs
2 tsp smoked paprika powder (sweet)
2 tsp ginger powder
2 tsp ground coriander
1 unsprayed lemon
sea salt
2 tbsp olive oil
DIP
300 ml yogurt
2 cloves of garlic
1 unsprayed lemon
sea salt
Preparation In Advance
Light the charcoal in the Big Green Egg and heat, with the Stainless Steel Grid or the Cast Iron Grid, to a temperature of 200°C.
In the meantime, halve the chili pepper, remove the stalk and the seeds and finely cut the flesh. Peel and finely chop the garlic. Pluck the leaves from the mint, coriander, and parsley and chop finely too.
Place the mince in a bowl and add the freshly cut and chopped ingredients along with the eggs, the smoked paprika powder, the ginger powder, and the ground coriander. Grate the lemon zest above the bowl, halve the lemon and squeeze out the juice over it. Add sea salt to taste and thoroughly mix these ingredients. Roll the minced mixture into little meatballs.
For the dip, spoon the yogurt into a bowl. Peel the garlic and grate the cloves over the yogurt. Grate the zest from the lemon above the bowl, cut the lemon in half and squeeze out the juice over it. Add sea salt to taste and mix thoroughly.
Method
Heat the Cast Iron Skillet on the grid of the EGG.
Heat the olive oil in the skillet. Add the meatballs and fry them for 5-10 minutes until they are just done and golden brown all over.
Remove the skillet from the EGG and serve the little lamb meatballs with the yogurt dip.
---